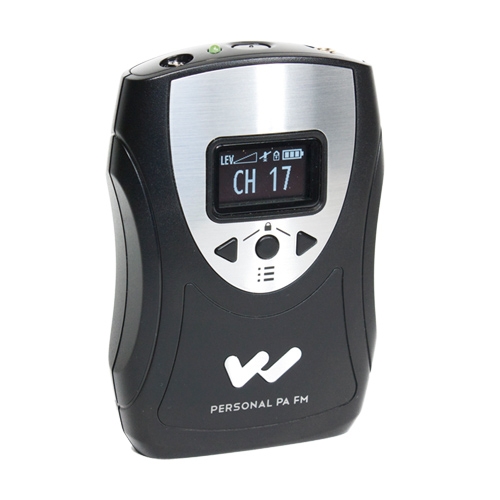 Body Pack Transmitter Model T46

The PPA T46 transmitter will broadcast a speakerís voice or audio program on one of 17 available channels, 72-76 MHz, to listeners using PPA R35-8 or PPA R37 receivers or an R1600 speaker. The unit features flexible microphone and auxiliary input jacks, push-button on/off/mute controls, channel lock and selectable compression. The T46 has the ability to operate in dual channel mode, allowing the user to easily switch between two different transmitting channels, each with its own set up parameters. An OLED screen displays current operating status and menu information. The new T46 operates up to 30 hours on two AA Alkaline batteries, and up to 20 hours with two NiMH batteries. It has recharge capability when used with Williams Sound drop-in chargers. Lightweight and portable, the PPA T46 will operate at a range of up to 150 feet from the listening audience. Ideal for providing hearing assistance to students in the classroom, tour group participants, employee training, business meetings and more. Includes batteries but does not include microphone. Order the desired microphone style from the microphones page.

PPA T46 $644.00
Free shipping on any order containing this item (U.S. addresses).

To jump to the microphones page click here.