Or to place an order by e-mail, send orders to
Orders@CrowRiverAudio.com
To make a secure payment by credit card for an order placed by e-mail,
click on this icon:
The invoice will say 1 E-mail Order at $0.01. This is correct.
We will take the item and cost information from your e-mail.
To order by mail, send order information and payment to:
Crow River Audio
P O Box 26161
Minneapolis, MN 55426-0161 USA
You can also call our toll-free order line at 888-596-4992 and place your order with our customer
service department (local and international customers please call 952-931-0255).
Or by fax (yes, we still have a fax machine): 952-931-7948 (24 hours).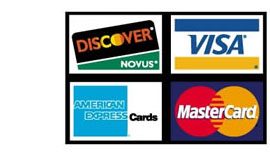 You can charge your order using American Express, Discover, Master Card or Visa.
(Charges will appear on your statement under our parent company name, Crow River Trading Co.)
(For payment using PayPal, pick "Other" for payment and we will send you a PayPal money request.)
Once you set up an account on-line, you may choose to have our secure server remember your account information for future orders.
Orders shipped within Minnesota will have 7.275% sales tax added to the order.
Call or e-mail us with any questions or concerns regarding payment options and terms.