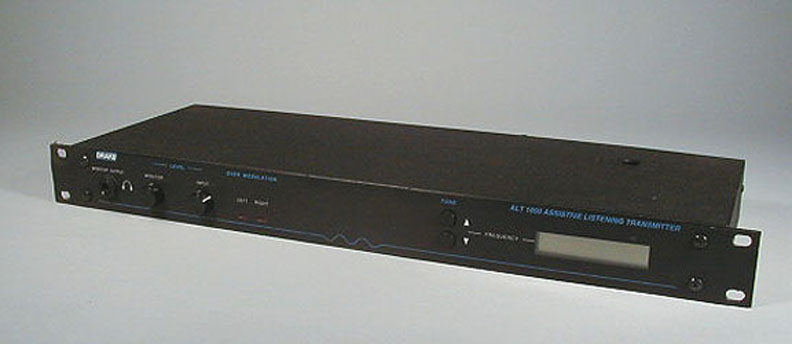 Stationary FM Transmitter Model ALT 1000

The ALT 1000 transmitter is the only assistive listening transmitter that allows for broadcasting in stereo as well as mono. It operates in the 72 MHz band and channels are easily changed using the front panel buttons. The LCD readout shows the current channel and stereo/mono operation settings. Has a front panel input level control with LED display and a mono headphone jack with adjustable level for input signal monitoring. The ALT 1000 can also be programmed to broadcast in the FM broadcast band (check local regulations before operating using these settings). Built in single rack space mounting. Includes power supply and telescoping whip antenna.
Click on the photo for a closer look.

The ALT 1000 is no longer manufactured and availability is limited to stock on hand. This is a refurbished unit in good condition and operates to factory specifications.

To view or print a copy of the installation guide and user manual for the ALT 1000 transmitter, click here.


ALT 1000 $399.95

We're sorry, this item is sold out.