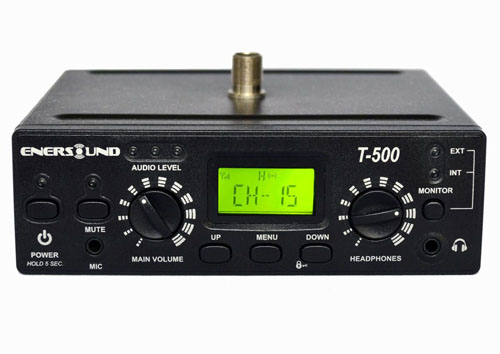 Enersound T-500 Transmitter



This 17-channel professional FM transmitter is very well suited for assistive listening and language interpretation applications. It wirelessly broadcasts a speakerís voice, music or any audio signal up to 1000 ft. The audience can use any brand of FM receiver operating on the 72-76 MHz frequency to pick up the broadcast. The T-500 transmitter features 3 main audio inputs that allow the direct connection of virtually any audio source. Included are a 3.5mm jack for headset microphones, an XLR & 1/4" combination jack with a selector switch for dynamic microphones, condenser microphones or line-level signals, and a RCA line auxiliary input. It also has a recording output and a 3.5mm monitor headphone jack. Its LCD display allows for easy programming of various useful functions, such as test tone, RF power level, display mode (frequency or channel) and channel lock function.
Comes with a one year parts and labor warranty from Crow River Audio.


T-500R $249.95

To view or print a copy of the installation guide and user manual for the T-500 transmitter, click here.

Additional antenna options exist for this transmitter. To go to that page on the web site, click here.