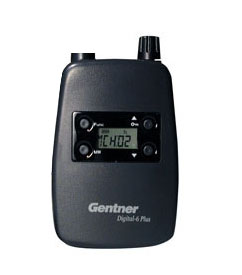 Gentner Digital-6+ Receiver



Gentner brand hearing assistance receiver, model Digital-6+.
The Digital-6+ is a six channel, field tunable unit in the 72 MHz band.
This model adds the convenience of pretuning six channels of program material
that are easily accessed by the user. Features an illuminated LCD display,
keypad lock and battery level indicatior.
These are refurbished units that function to original factory specifications.
Includes Alkaline batteries and wrist strap, but does not come with earphone.
Add the desired earphone from the earphones or headphones page.
Includes a one year parts and labor warranty from Crow River Audio.

GNTD6+R $89.95

To view or print a copy of the user manual for the Digital-6 receiver, click here.

To jump to the earphones page click here.
To jump to the headphones page click here.